Professional Hood Cleaning Services in Scarborough
At Scarborough Hood Cleaning, we provide a professional hood cleaning service for all types of commercial kitchens in the Scarborough area. We can remove grease, smoke residue, cooking odors, and other contaminants from your ventilation systems. You'll feel confident about what you're breathing again! Our team is fully qualified to tackle any job big or small, with competitive rates that won't break your budget. Call us today!
Benefits of cleaning a commercial hood
Commercial hoods are a critical part of any commercial kitchen. They keep the air clean and free of grease, smoke, and other airborne particles that can cause fires and release dangerous toxins into the air. When left uncleaned for extended periods of time, they become dirty with grease build-up which is difficult to remove without professional help from Scarborough Hood Cleaning.
We provide you with quality work at affordable prices so you don't have to worry about your building's health or safety! Call us today for more information on our services!
Quality commercial cleaning services
When you need commercial cleaning services, the last thing you want to worry about is if your company's facility will be spotless. Scarborough Hood Cleaning is your solution for commercial cleaning services. We take the time to walk you through our process and then provide a custom quote, tailored specifically for your needs.
dfgd
OUR SERVICES
Kitchen Exhaust Cleaning Scarborough
Breathing in the particles from cooking is harmful to your health. Cooking exhaust systems are designed with filters that trap these tiny particles before they make their way into a kitchen's ventilation system and out of the building. Scarborough Hood Cleaning can remove grease, grime, and food residue from exhaust systems to keep them running smoothly for years to come. Give us a call today if you need more information about our services – we look forward to hearing from you soon!
Commercial Kitchen Equipment Cleaning Service Scarborough
Do you own a commercial kitchen? If so, then it's important to know that your equipment is one of the most critical pieces in your restaurant. It can make or break how well food is prepared and eaten by customers. That being said, it's crucial to have a reliable cleaning company at hand for when accidents and spills happen. Scarborough Hood Cleaning specializes in this type of work. We offer great rates on all services and are available seven days a week for emergencies. Contact us today!
Commercial Kitchen Cleaning Scarborough
Scarborough Hood Cleaning is a full-service commercial kitchen cleaning company that can help you with all of your residential and commercial needs. We have experience in local schools, restaurants, hospitals, hotel kitchens, corporate offices, and more. Our unique approach to sanitation and safety will keep your facility running smoothly so you can focus on what matters most – the people who come into your establishment every day! Contact Scarborough Hood Cleaning today for a quote!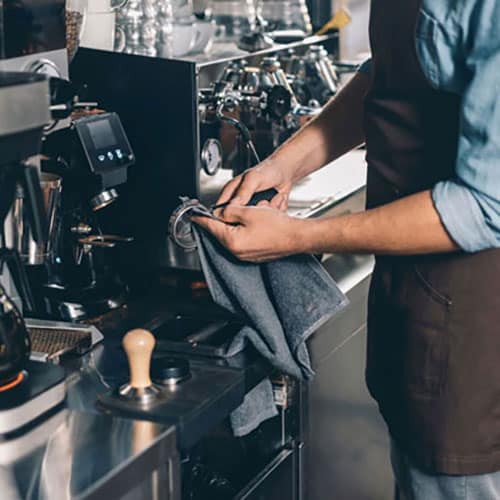 Restaurant Cleaning Services Scarborough
Scarborough Hood Cleaning is a professional company that provides restaurant cleaning services in the Scarborough area. We specialize in providing deep, thorough, and sanitary cleaning for restaurants of all sizes. Whether you're looking to have your kitchen cleaned or your dining rooms spruced up, we are here to help! Our prices are competitive with other companies while our cleaners offer unparalleled quality and attention to detail. Contact us today at 647-370-3454 for more information on how we can make your restaurant sparkle like new again!
Rooftop Grease Containment Scarborough
The roof is the most important part of any building. It keeps everything dry and safe from the elements, but it also needs to be cleaned regularly in order to protect the integrity of your property. That's why we offer a range of services for rooftop grease containment Scarborough residents can rely on. We know how important your business is and that you want it to look its best at all times! You'll never need to worry about any unsightly stains again when you work with us today. Call now for an estimate!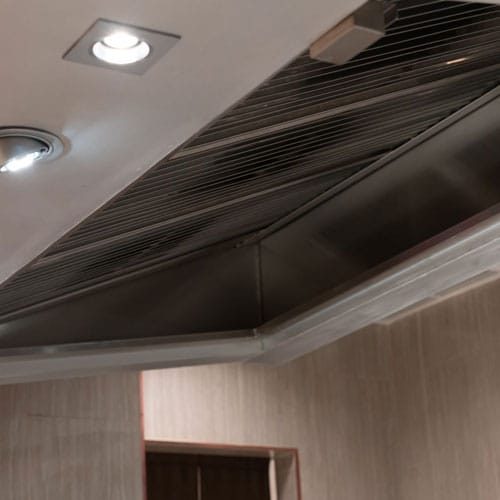 Exhaust Hood Cleaning Scarborough
Commercial exhaust hood cleaning is a critical part of running a successful restaurant. It protects your kitchen from grease fires and prevents air quality violations that could put you out of business. With the right commercial exhaust hood cleaner, it's easy to maintain your venting system and prevent costly repairs or replacements in the future.
Keeping up with daily maintenance ensures less wear and tear on your equipment.
Exhaust Fan Hinges Installation Scarborough
The exhaust fan hinges installation by Scarborough Hood Cleaning is a procedure that keeps you and your property safe. Your commercial kitchen exhaust system relies on these hinge points to function properly, and if they are not installed, it can lead to an inefficient system that does not work at all. We understand the importance of maintaining your appliances so we offer professional service for any kind of commercial exhaust fan hinges installation needs. Contact us today for more information or to schedule an appointment!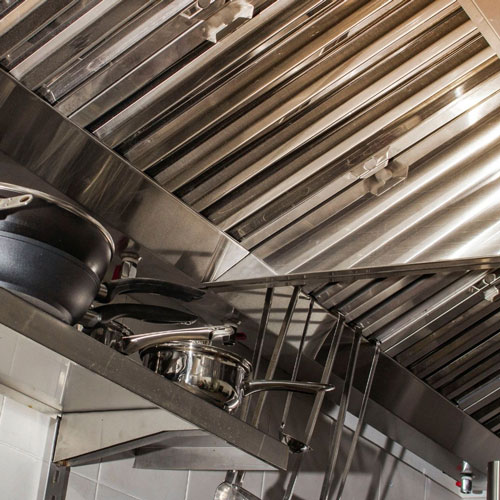 Hood Filters Scarborough
Hood filters are a great way to keep your commercial kitchen at its best. Hood filters not only remove grease and other particles from the air, but they also have an antibacterial agent that will help to keep your restaurant cleaner. This is especially important in places like Scarborough where there are frequent power outages due to storms. These filters can be installed quickly and easily by our professionals who work with you every step of the way. Contact us today for more information on how we can make your commercial kitchen more successful!
Disinfect / Sanitize Commercial Kitchens Scarborough
If you're looking for an expert to clean and disinfect your commercial kitchen, look no further than Scarborough Hood Cleaning. Our team of experts is trained in the latest techniques for cleaning and sanitizing kitchens so that you can be confident that your food preparation area is safe. For more information or questions about our services contact us today.
Floor Cleaning Scarborough
It's important that your floor is clean. Not just any old dirty, but a complete deep-clean. And we're here to help! Scarborough Hood Cleaning offers professional floor cleaning services designed for your business in the Scarborough area. We have years of experience and are fully licensed and insured. Give us a call today to schedule an appointment with one of our specialists!
Grout Cleaning Scarborough
Professional grout cleaning is important for a number of reasons. It helps to keep your business looking fresh and clean, it keeps the air inside your building healthy, and it prevents potential health hazards that can crop up due to mold or bacteria growth. You can rely on us to provide quality workmanship that will last for years to come. Contact us today!
Commercial HVAC Cleaning Services Scarborough
Commercial HVAC cleaning services are needed to keep your system in top notch condition. With the right care, a commercial heating and cooling unit can last up to years! In order for you or your business's HVAC system to work at its best, it is important that regular maintenance be done by a professional company like Scarborough Hood Cleaning. Our technicians will clean the outside of the unit as well as take apart all parts of the inside to ensure everything is working properly.
Neighborhoods
West Hill, Rouge, Highland Creek, Scarborough–Agincourt, Wexford, Scarborough Village, Malvern, Guildwood, Woburn, L'Amoreaux, Oakridge, Ionview, Scarborough Junction, Bendale, Cliffcrest, Cliffside, Birch Cliff, Milliken, Dorset Park, Port Union, Tam O'Shanter – Sullivan, West Rouge, Eglinton East, Scarborough City Centre, Clairlea, Maryvale, Morningside Heights, Golden Mile, Armadale, Morningside, Steeles, Agincourt North, White Haven, Wexford – Maryvale, Clairlea – Birchmount
Customer satisfaction is our top priority
At Scarborough Hood Cleaning, we take pride in our work. We provide a variety of services including commercial hood cleaning and kitchen exhaust system installation. Our team is dedicated to customer satisfaction, which is why we offer the best quality service at affordable prices. Give us a call today for all your commercial hood cleaning needs!
WHY CHOOSE US
We are Scarborough Hood Cleaning, and we provide you with a range of services. With our help, you can give your business the cleaning it needs to make it feel like new again. We do everything from light dusting to deep scrubbing and polishing floors all while protecting your furniture and other belongings. You don't have to worry about keeping up on this task any longer because we'll be able to take care of that for you. Call today!
GET IN TOUCH
Do you need your commercial property cleaned? Scarborough Hood Cleaning is a reliable and trustworthy company that specializes in cleaning any type of commercial property.
Our team is not only highly trained but also follows a strict safety protocol to keep our environment safe at all times. This protocol is further followed by regular checks on our staff. No matter how big or small your job may be, we can handle it for you! We offer unbeatable prices and excellent service to keep you happy. Contact us today for a quote.